photos by Richie Mountain
"...If Paradise 9 had been around back in the day, then surely their space-punk vibe would have made them great stablemates for the likes of Inner City Unit, Underground Zero, and yes, Hawkwind themselves, on the 1980s Flicknife roster. Fast forward to 2021, and how fantastic to see them join the resurgent Flicknife now!" Ian Abrahams - NoStarUnturned
LATEST NEWS
Our brand new digital single "These are the Days" is now released on Bandcamp, with an accompanying YouTube video of the track, featuring Greta Thunberg's COP24 speech.
https://paradise9.bandcamp.com/track/these-are-the-days
All proceeds from the princely priced 0.99p sales will go to Greenpeace, celebrating 50 years of environmental activism since 1971.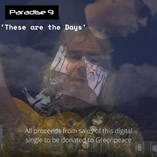 We are delighted to announce that our brand new 3rd studio album 'Science Fiction Reality' (SHARPCD21118) is out on FLICKNIFE RECORDS!
Available now from the Flicknife web store
https://www.flickniferecords.co.uk
Fab new reviews in June's issue of Viva Le Rock!
'Science Fiction Reality' album trailer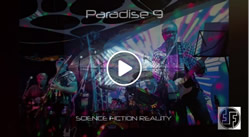 '
.
For our 2020 gigsSee Gigging.
TO SUBSCRIBE TO OUR NEWSLETTER PLEASE SIGN UP ON OUR GIGGING PAGE